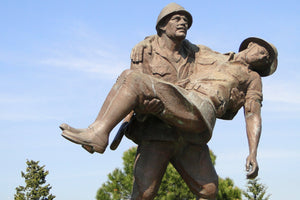 ANZAC Day 2024 - Commemorations 25 April 2024
Departs April 23, 2024
Tourist bus and regular tour including Anzac Commemorations
Day 1 - Tue 23rd April: Istanbul – Gallipoli – Canakkale (L)
This morning you will be picked up from the hotel between 6.30am and 7.00am and transferred to Eceabat, stopping en-route for breakfast (own expense). Arrive in Eceabat at approx. 12mid-day where you will be met by the local guide. After lunch, depart on a guided tour of Gallipoli visiting: Brighton Beach, Beach Cemetery, ANZAC Cove, Ariburnu Cemetery, ANZAC Commemorative Site, Mehmetcik Statue, Lone Pine Australian Memorial, Johnston's Jolly, Turkish and Allied trenches and tunnels, Turkish 57. Infantry Regiment Cemetery, The Nek Cemetery and Chunuk Bair New Zealand Memorial. Upon completion of the tour you will be transferred to your hotel for an overnight stay.
Day 2 - Wed 24th April: Canakkale - Troy - ANZAC Cove (B)
This morning, depart for a tour of Troy. Discover the Trojan Horse, Sacrificial Altars, the 3700-year-old city walls, Houses of Troy I 3000 BC-2500 BC, the Bouleuterion (Senate Building), the Odeon (Concert Hall) as well as the remains of the various cities from Troy I through to Troy IX. Return to Canakkale and spend the afternoon at leisure.  Tonight at 8.00pm depart for the Commemorative site.    
Note: there is no accommodation included this evening
Day 3 - Thu 25th April: Dawn Service – Istanbul (Lunch Box)
The schedule for Anzac Day Commemorations may vary. Below is the proposed programme:
5:30am           Dawn Service at Anzac cove
10:30am         Australian Service at Lone Pine
11:45am         New Zealand Service at Chunuk Bair
Return to Ecabat and depart for Istanbul, arriving late in the evening.
1 nights hotel accommodation with private facilities
Transportation from Istanbul to Gallipoli and back - air-conditioned vehicle
Fully Guided Gallipoli and Troy Tours
Professional English speaking guiding
1 x Breakfast, 1 x restaurant lunch, 1 x lunch box during ANZAC Day ceremonies
Dawn Service, Australian and New Zealand Ceremonies
Turkey Travel Notes – issued by Innovative Travel
International airfares
Optional tours and excursions
Porterage
Tipping/Gratuities (please refer to tour notes for a recommended guideline)
Personal Expenses
Departure taxes
Hotel charges for minibar or any extra charges
Visas (unless specified)
Any other services not clearly mentioned in the inclusions above
The hotel selection may change – please use this as a guideline only.
Please note that no commentary will be provided on the way to Gallipoli and back to Istanbul, this is a transfer only.
Notes on the ANZAC Commemorations
You will pass through various security measures before attending the official ANZAC commemorations. Please bring, water bottle, snacks, sun hat and sunscreen. Please prepare to be patient during the security procedures.
There is at least a 7km walk to Chunuk Bair from the Main Dawn Service to the New Zealand Commemorations
Please ensure you take a hat, gloves, warm socks, scarf, warm coat etc, as it will be cold on the Peninsula. It is also advisable to take a torch, rug, notebook and energy snacks for the day.   Take a lightweight day pack to take food boxes, water bottle, snacks etc – so don't forget these! Due to security measures there will be a long walk to the dawn service so please ensure you have good walking shoes. Toilet facilities on the Peninsula will be basic (port-a-loo style).
It is essential when registering for this tour that you are able to walk up to 7- 8 km unaided – it is a steep uphill walk between Anzac Cove and Chunuk Bair.
**DOUBLE BEDS**
Please note we have requested a double bedded room but cannot guarantee one will be available. In Turkey double rooms are very limited. Please ask on check-in with the hotel to see what is available.
ANZAC Hotel / Kale 17 Hotel (or similar)
Dress Codes
Modest dress is required for entrance to holy sites – Men: Long pants, Women – skirt or long pants and shoulders covered.
Hotels
On coach tours, hotels in regional areas (i.e Pamukkale) can be of a slightly lower standard than the other hotels on the tour.  
Sightseeing
All sightseeing tours require a moderate amount of walking around historical / cultural sites. This is particularly true in Cappadocia where walks can be up to 1 or 2 km long and where a good level of fitness will ensure you get a maximum enjoyment from your visit. On some tours you may visit a carpet or handicraft shop where the locals will show how their crafts are made. There is no obligation to buy any products at any of these places.
Transfers
Transfers are operated by drivers and are not guided. Some drivers may only have a basic command of English.
Optional Tours
Optional tours offered during coach tours may not be guaranteed (even if pre-booked ex New Zealand) as they are subject to a minimum number of participants.  
Private Sightseeing tours (if booked)
If a private sightseeing tour is booked it is important that you discuss the days arrangements with the guide as the touring programmes have a degree of flexibility. It is important to discuss with the guide so that any specific requirements can be met or addressed at the time.
Istanbul airport transfers:
For coach tours: airport transfers are included on days of the tour ex Istanbul Airport, a surcharge will apply for transfers to or from Sabiha Gocken Airport. Transfers from the hotel to the Airport may be on scheduled shuttles. Late Evning or early morning flights may require private transfers at a supplement.
For independent / private tours: if included, airport transfers are applied ex Ataturk Airport, a surcharge will apply for transfers to or from Sabiha Gocken Airport.
 
Trip prices and dates are correct at the time of the website going live, however all offers are subject to reconfirmation at the time of booking. All featured tour itineraries and offers maybe subject to change due to seasonal variations without notice, or due to local conditions or other conditions. Please confirm all details at time of booking. Travel insurance is mandatory for all Innovative Travel bookings. All passports must be valid for 6 months prior to your return to your home country. Visas are the responsibility of the traveller. Special VIP meet and assist offers are valid for New Zealand passport holders, for other nationalities please check at the time of booking. For full terms and conditions, please refer to our Booking Conditions page.