Author: Jane Daniels

Unlike the Elgin Marbles, I made a return to Greece and today I was again on Mykonos, the most famous of the Cycladic islands.
On my first visit, Nana Mouskouri's songs were playing in the bars. Things have moved on since. Nana is probably now a Nanna and Mykonos has had a famously busy club and nightlife scene for a long time.
Daytime Mykonos is pretty. With its whitewashed cube houses, lovely most-photographed Little Venice waterfront and Panagia-Paraportiani church: 5 churches in one. The cute labyrinthine and often dead-end streets were built not only to confuse rampaging pirates but also to reduce the effect of the strong Cycladic winds. Mykonos is also well placed as a jump-off point for day trips to the archaeological site on Delos, and to the nearby islands of Paros and Syros.

Greece is the ideal dream summer holiday destination: virtually guaranteed brilliant blue skies and sunshine, warm clear water to swim in, the quintessentially charming taverna right on the beach, great food, quaint villages, and an extraordinary wealth of ancient arts, culture, ruins and unusual landforms to discover. I had several islands on my wish list and if I was going to explore and see all of these I would need to take several ferry trips and flights. Thanks to Innovative Travel a great deal of logistical planning and solutions were worked out to create my bespoke "dream summer holiday".
First I wanted to see Dioskourides and his wife Kleopatra and they are on the island of Delos.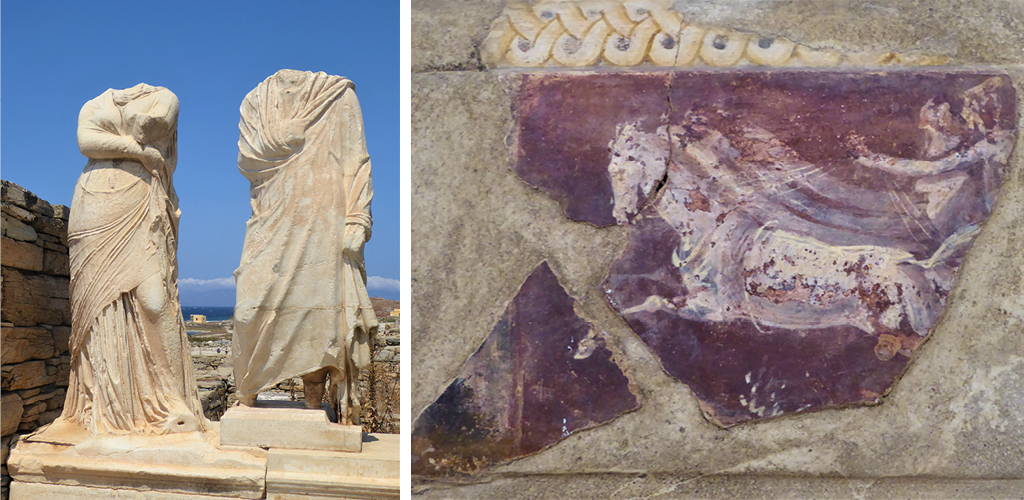 There they are, in front of the remains of their old house. They lived there around 138 B C. These sculptures are so wonderful that I made a small sketch of them for my carnet de voyage. Most popular on Delos and close by on this tiny island is a row of statuesque lions: the Terrace of the Lions. How magnificent they must have looked: a troop towering over the citizens going about their lives in their busy streets. Delos became a centre of trade, a tax-free port and then went on to be the greatest commercial centre in the Mediterranean. The museum adds to the story and has some great exhibits.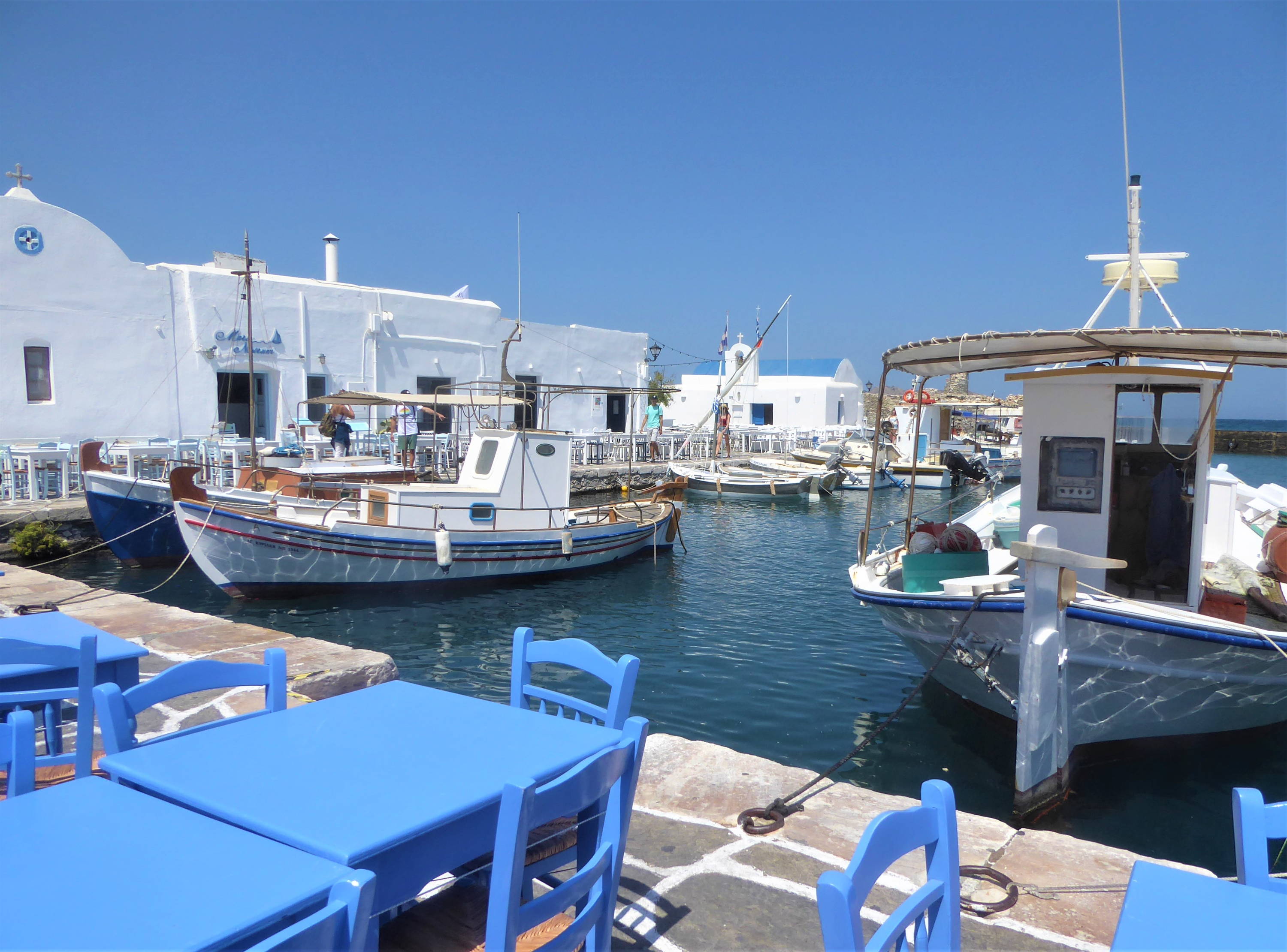 Paros, my other day trip from Mykonos, with its white cubed houses and winding lanes full of bougainvillea around the old fishing village of Naoussa, also has important cultural sites and lovely beaches like Santa Maria and Golden Beach.
I was flattered and delighted to attend the wedding of a former member of my team at Jane Daniels.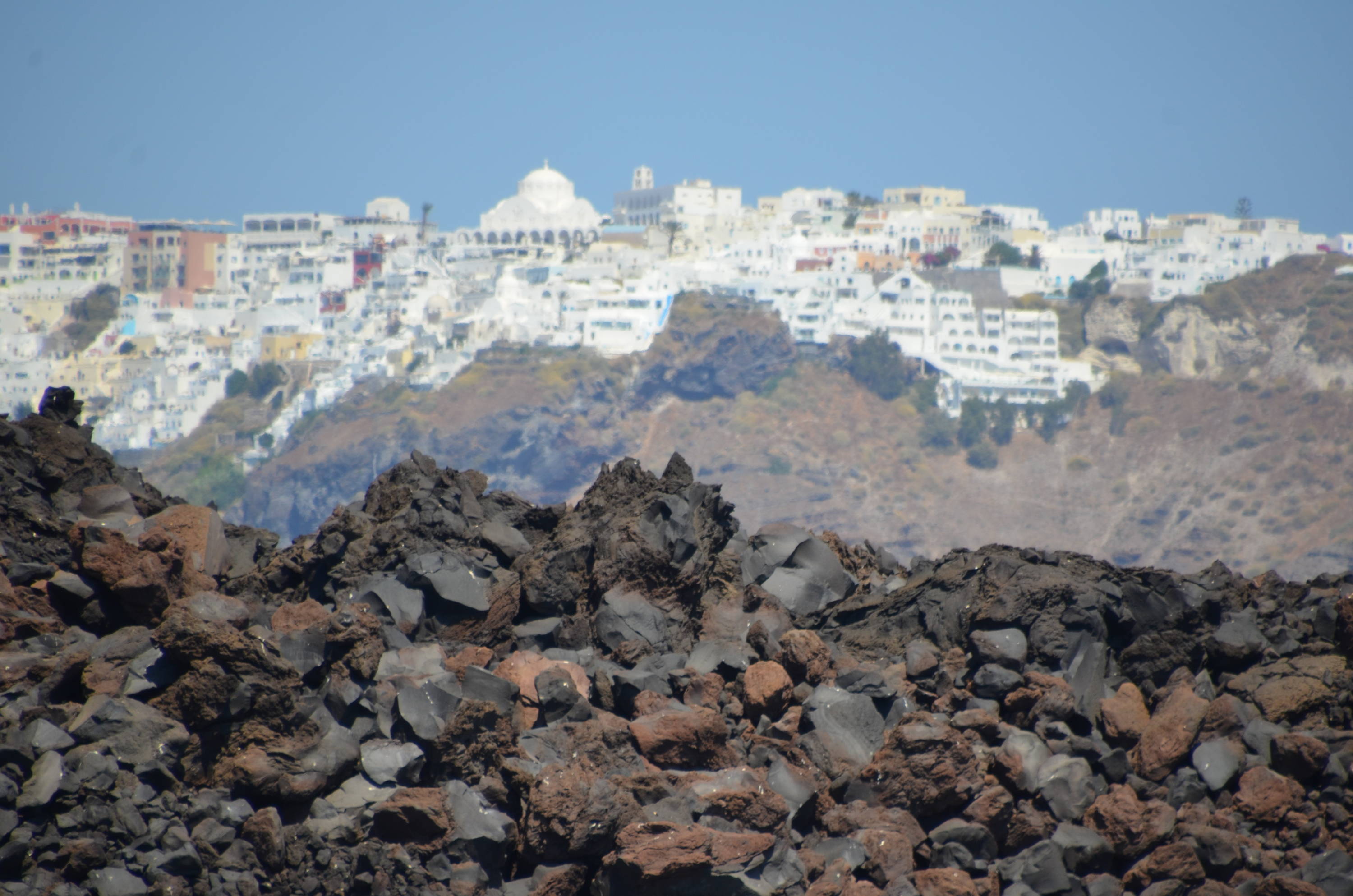 The wedding was a fairy-tale affair on a clifftop with a magnificent view of Santorini and its caldera. The following day the whole party also took a trip on a classical sailing boat to swim in the hot water around the Burnt Islands with views back and up to Santorini. Atlantis or not? A visit to the Akrotiri archaeological diggings is fascinating. Completely covered over for protection it is only when you exit into the brilliant sunshine that you remember that you are on a Greek island: time for the beach, lunch and a swim. Whether beach taverna or clifftop restaurant, Santorini combines the spectacular with great Mediterranean food, but as such, it's busy and it pays to book.

I have long wanted to visit Milos: branded "Greece's island of colour". I was not disappointed. Extraordinary whitewash-coloured, moonscape-like landforms surround a swimming cove at Sarakiniko.
A boat trip is the only way to see the superb caves at Kleftiko, where you can snorkel down underwater and see steps and paths made years ago by pirates and smugglers. By car you can visit a working mine full of minerals of every colour, and drive on to find cute little fishing settlements of brilliantly coloured tiny houses and boat sheds. The morning catch on the line, and the hopeful cats underneath. Milos is easy for driving, with sophisticated accommodation and great little waterside restaurants conveniently nearby.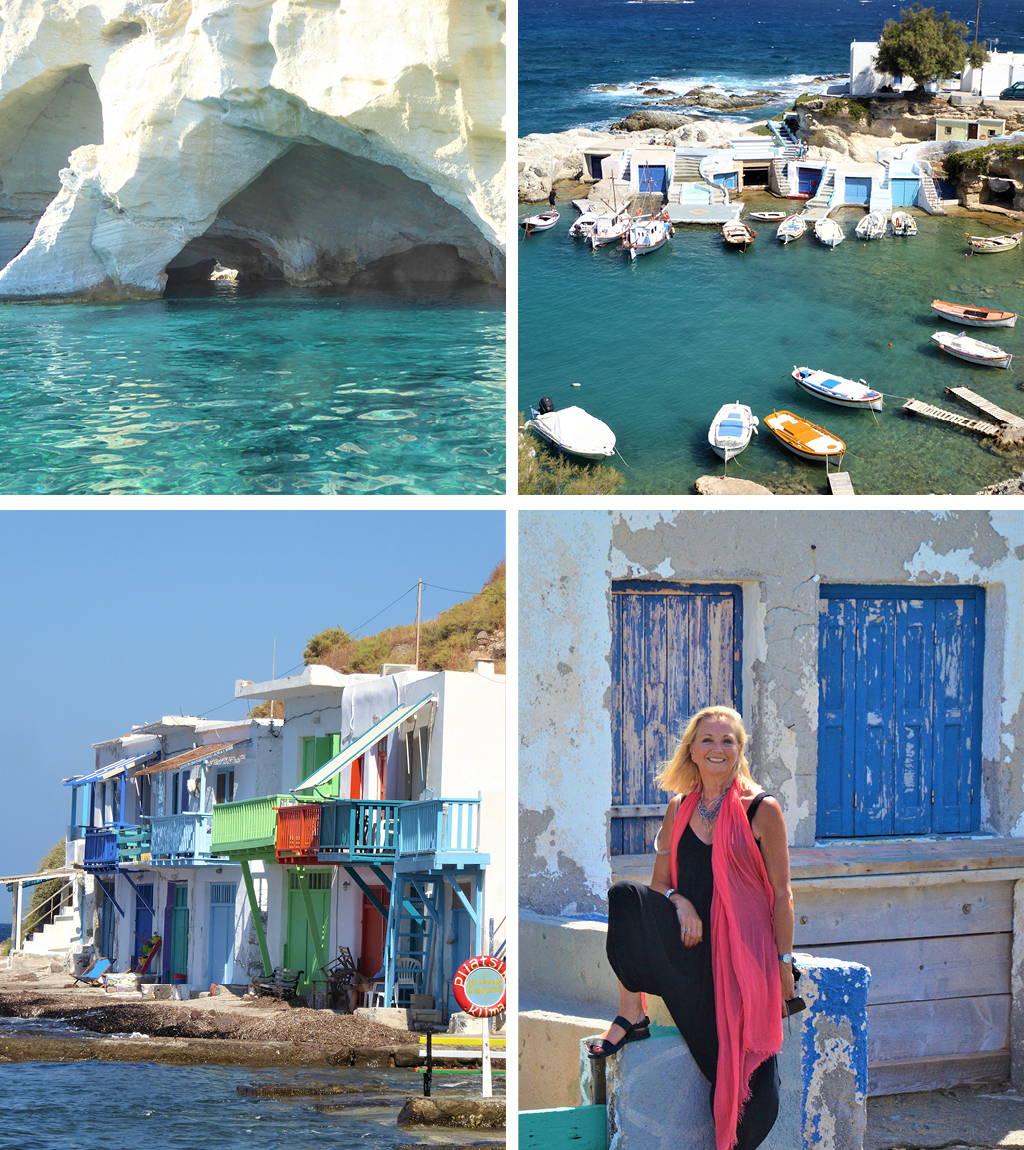 From Athens I went by train to the very famous site of Meteora (meaning "suspended in the air") where only six of over twenty monasteries remain, built impossibly on clifftops of up to 300 metres to escape the marauding Turks. The monks and goods were hauled up by a pulley system in a rope basket. Amazing. The interiors feature colourful beautiful frescoes, and many of the monks developed gardens on the top of the cliffs. The whole area is spectacular and affords opportunities for extraordinary sunset photography. Down in the valley at Kalabaka is a tiny lesser-known gem, St Mary's church, which pre-dates the monasteries by 1000 years and is incredibly decorated inside with frescoes, some dating back to the origins of Christianity.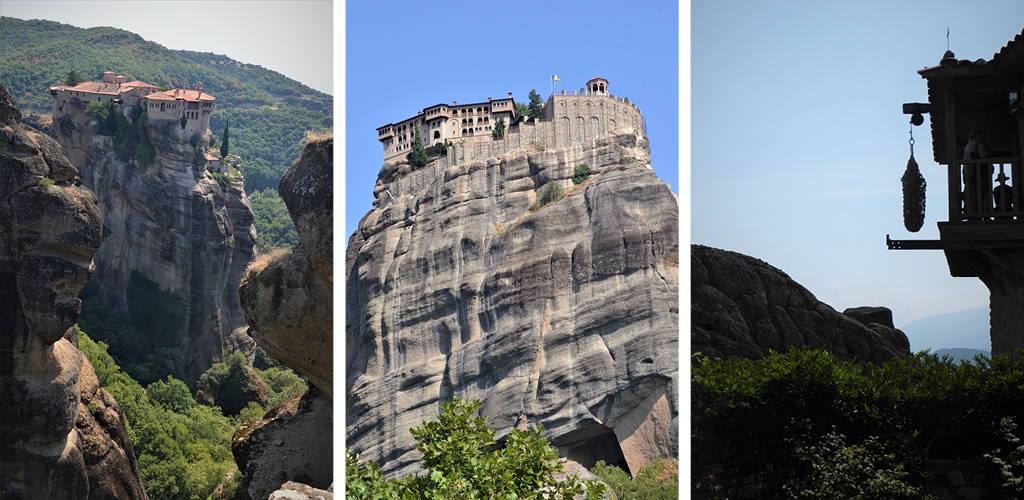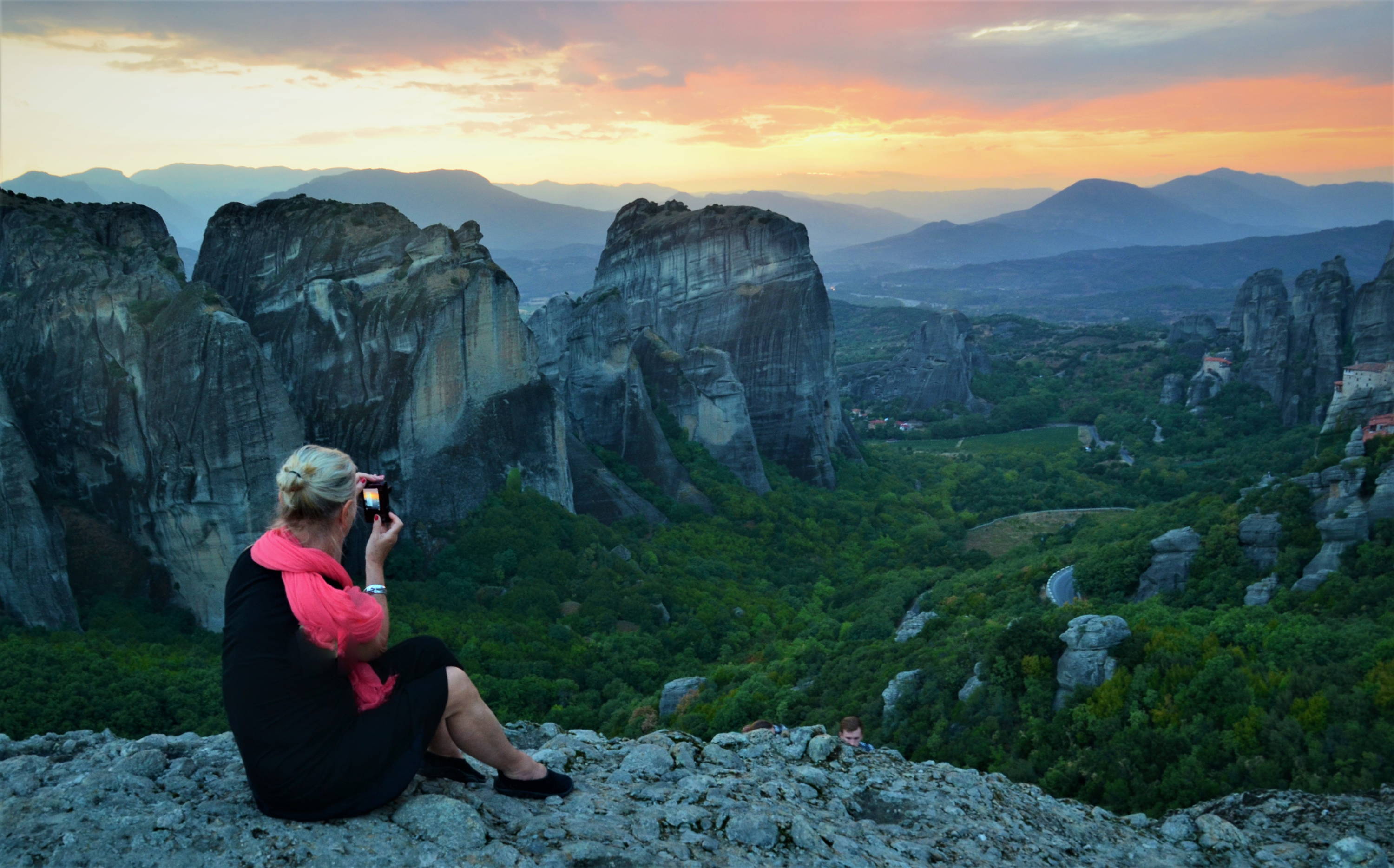 Athens is vast, and Innovative Travel found me a lovely centrally located hotel with rooftop dining and a view of the Acropolis. In the morning I climbed that Acropolis to the Parthenon. It turned out to be a good idea as the crowds grow with the day. There are also the marvellous museums, the Archaeological : I was on a mission to see the frescoes moved there from Santorini, the Cyclades museum, with its beautiful simplified modern-looking sculptures and a wonderful cafe with a fabulously designed ceiling, the new Acropolis museum and the Benaki for costumes and domestic artefacts. Evening found me strolling in the buzzy Plaka area below the Acropolis with friends. A drink on one of the many rooftop bars with the Acropolis as your view is a must.

Next was a short flight to Chios, very near to the Turkish coast. Having seen a photograph in a book by Lawrence Durrell of the Mastic villages: black and white geometrically patterned village houses, I was keen to see this for myself. Using black sand, plaster and locally grown mastic, the villagers create new designs annually on every surface of walls, balconies and under archways of their medieval villages. Any unique art is always inspirational for my own design work.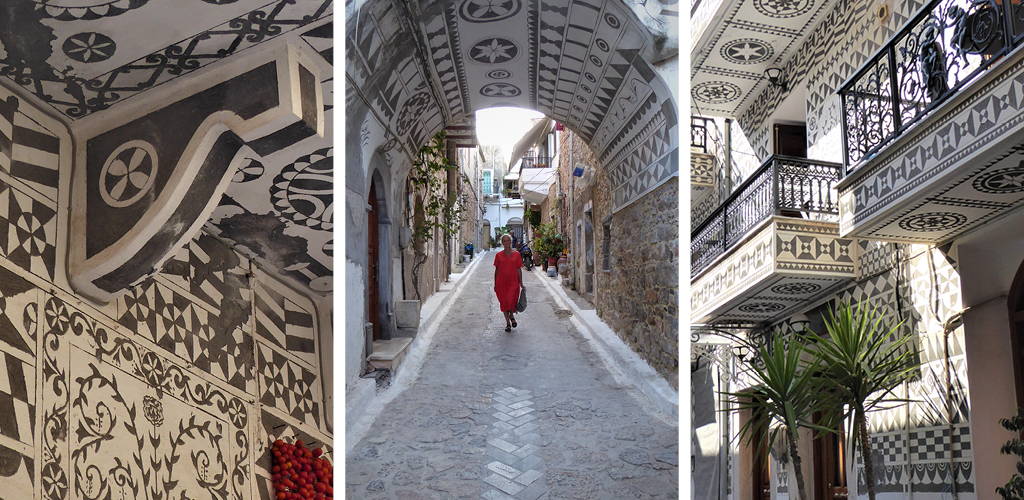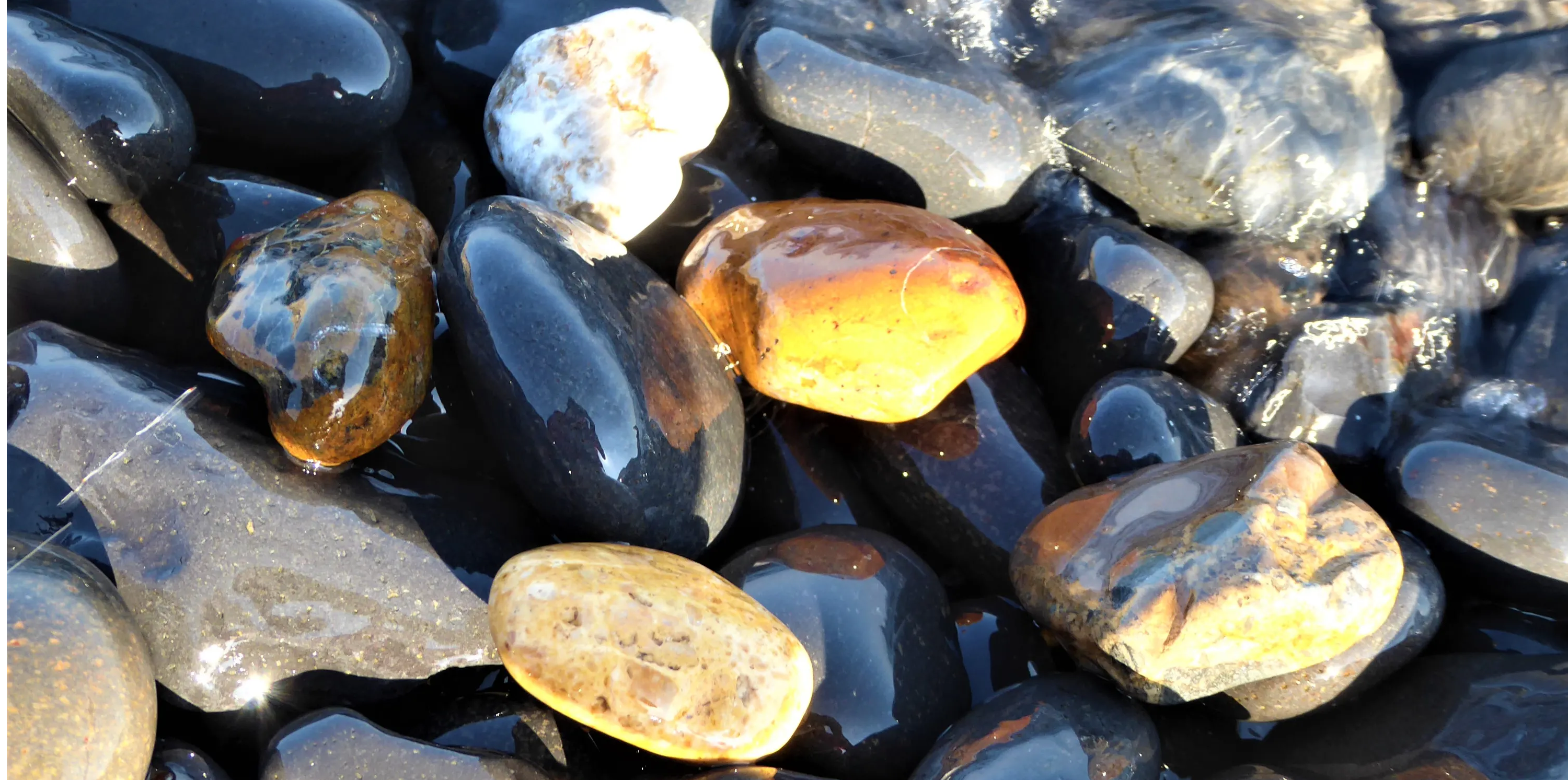 Chios is a large island with lovely uncluttered beaches. Unusual and rather lovely was the Mavra Volia, a black pebbled beach with remarkably clear water. Wonderful swimming.
I also visited the remote 11th Century Nea Moni monastery up in the hills in the middle of the island and had some interesting discussions with the on-site restoration team about their almost unique mosaic depiction of Jesus' baptism where he is naked through the veil of water.
I stayed at the Grecian Castle hotel, where I experienced some of the most delicious and sophisticated food of my whole trip.
A 20-year-old cover from a magazine willed me to Rhodes. It was a photo of the charming and rustic Marco Polo Mansion hotel in a 15th Century Ottoman house in Rhodes Old Town. It also has a gorgeous walled garden restaurant with great food. The lovely owners had the knack of making you feel welcome like old friends.
Rhodes Old Town is a fabulous rabbit warren of arched narrow cobbled walkways (only pedestrians) and everything remaining of the old Crusader stronghold. A great mix of Christian and Islamic architecture and artefacts, and I loved it. I took the opportunity to take a day trip to the close-by little island of Symi. It has a very pretty, natural harbour with pastel coloured Neoclassical houses stacked on top of each other as in an amphitheatre. When you have exhausted all the photo opportunities, a little boat can take you to several different beaches with clear, clear water, and of course a taverna for lunch.

A short ride down the coast took me to Lindos, a pretty whitewashed town full of sea captains' houses with carved doorways and intricately black and white pebbled thresholds. After a mix of history and art for a couple of weeks it was wonderful to end my trip by just being in and out of the warm clear water swimming for hours at the little cove that is St Paul's Bay (he visited apparently). A conveniently placed taverna, Tabrakio, provided the perfect almost swim- up -to experience of beachside table with sophisticated light food and a glass of chilled rose. Heavenly.
Click to view our online brochures. We also offer printed brochures to order. Enquire here
Read testimonials from past Innovative Travellers whom we have helped to explore the globe.
Click to sign up for our amazing email exclusive offers, free events, travel tips, and more.