Enthralling Turkey - a favourite travel destination
This incredible land, which is both Asia and Europe, has long fascinated travellers and I am no exception. Having been there 8 times, there are still many things about Turkey that lure me again and again.
An enthralling mix of ancient history, entrancing scenery, delicious food, unbelievable landscapes, soft and adventurous excursions, continue to make Turkey a favourite travel destination for many from many cultures.
This blog is nowhere big enough for me to rave about my favourite destination, but here goes with a few highlights.
Ephesus:
On the Western coast, with biblical and historical interest, Ephesus is attractive to a wide range of travellers. Walk on centuries old marble streets, view the prostitutes house and what is reputed to be one of the earliest toilet systems! The breath-taking amphitheatre, which has a width of 145 metres, still has portions where you can sit in the same spot as people sat before 200 AD.
The facade of the library of Celsus is still standing with its impressive proportions, Corinthian columns and statues almost defying gravity.
Istanbul:
Asia kisses Europe in this city, with the mighty Bosphorus Sea, the 32 km long north-south strait that joins the Sea of Marmara with the Black Sea in Istanbul and separates the continents of Europe and Asia. A day trip from the city out to the Sea is unique, criss-crossing and stopping several times on both sides. The stops are utilised to allow passengers off, but also to welcome sellers of beautiful lace cloth, trinkets, food and souvenirs.
Hagia Sophia or The Blue Mosque:  
No trip to Istanbul is complete without a visit to this impressive building, which is now a museum, having morphed from being an Orthodox cathedral, then a mosque. The vast dimensions of the Blue Mosque are beautifully decorated with traditional Turkish tiles in shades of blue.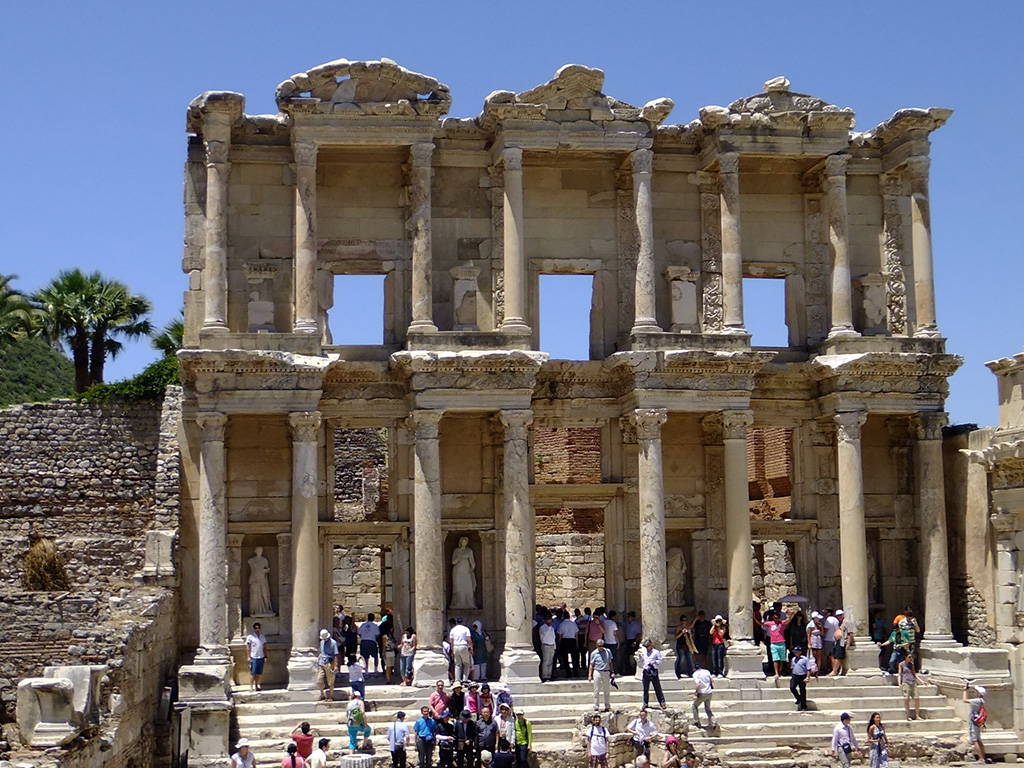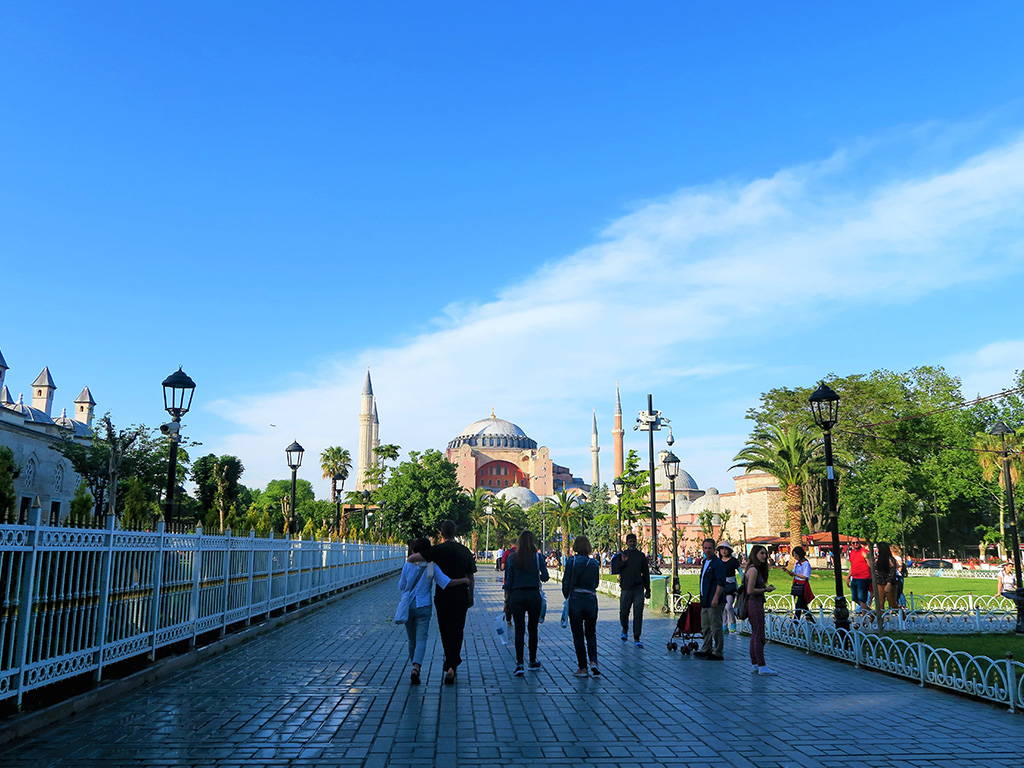 The Grand Bazaar:
Even the most ardent shoppers can feel overwhelmed by the hugeness of the Grand Bazaar with its immense array of clothing and shoes, of traditional goods, foods, spices, household items and souvenirs. Store keepers often entice potential customers deeper into their shops by offering apple tea, enjoyed in delicate glasses.
The Cisterns:
A lesser known tourist destination, in the cavernous depths of Istanbul are the Cisterns, a system designed to deliver up to 80,000 cubic metres of water via 20kms of viaducts from the Black Sea. Its symmetry and sheer grandeur of conception are quite breath-taking. You will make a great memory walking on the boardwalks over the water, accompanied by classical music in the beautifully lit area supported by ancient columns.
Cappadocia:
When visiting unforgettable Turkey, don't leave without a trip to Goreme, Cappadocia in the east. This part of Turkey is so very different from any other part of the country and entering it is like landing on another planet! It is marked by a geological oddity of honeycombed hills, some of which are cave hotels in which you can have an authentic cave living experience.  
The icing on the cake is a dawn hot air ballooning trip over this moon-like landscape. You will be picked up as the day dawns, climb into a basket and join dozens of other balloons as you silently rise and glide high, viewing the landscape from above. This excursion will long remain as a travel highlight, as it has for me.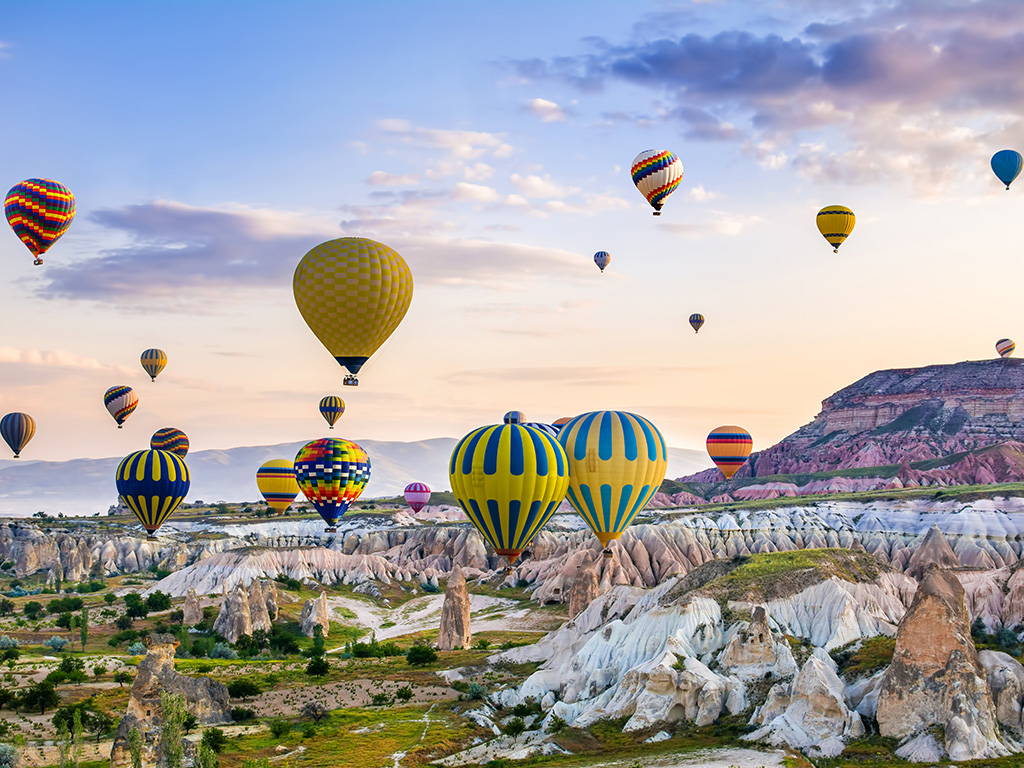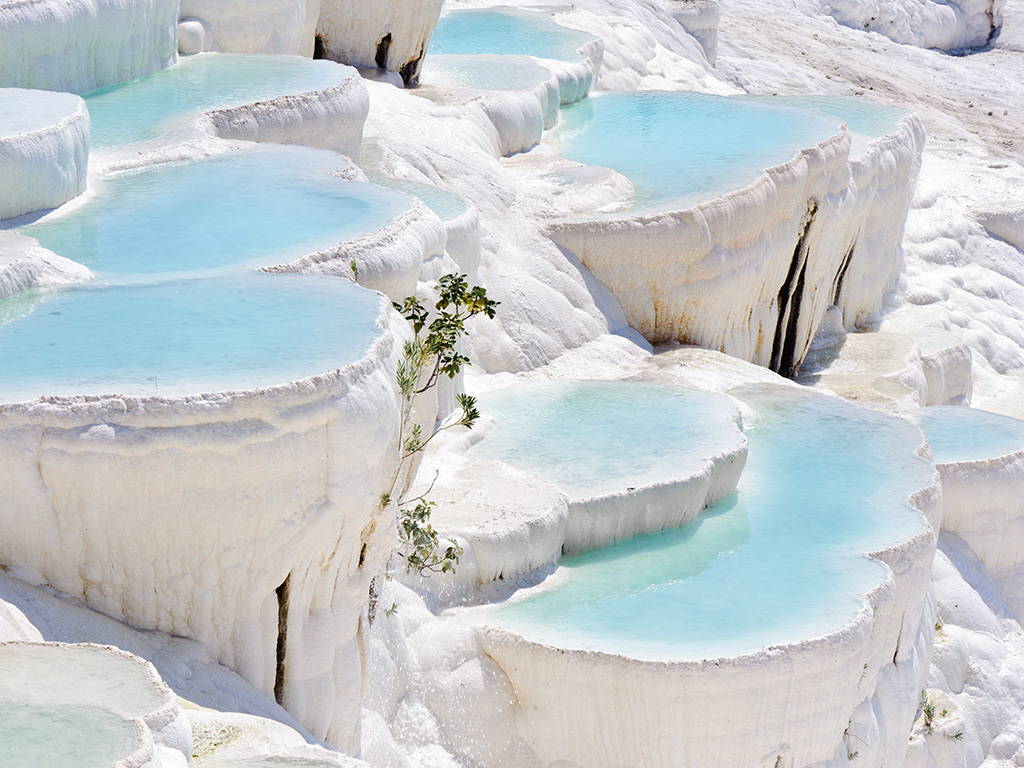 Pamukkale:
About half way between Ephesus and Goreme lies Pamukkale. These travertine terraces at Pamukkale are a spectacular natural wonder. Pamukkale in Turkish means cotton castle, formed when cascading calcite laden waters dripped down the hillside over centuries to form basins of water. You can walk into these watery dishes and experience their silkiness of this incredible place.
Whirling Dervishes:
Complete your visit to Turkey with an evening of a traditional Turkish meal and a whirling dervish performance. This spiritual exercise takes the dervishes into another realm where they whirl round and round, their long white robes splayed out, tall hats pointing up and backwards creating the whirling effect.
Time to go.
Turkey is a 'do it now' destination, which is very easy to travel in. Accommodation is available in every range, public transport efficient, modern and safe with English widely spoken. Why wait? Some time spent exploring Turkey in their 2020 summer will be very well worthwhile and most memorable.


---
Click to view our online brochures. We also offer printed brochures to order. Enquire here
Read testimonials from past Innovative Travellers whom we have helped to explore the globe.
Click to sign up for our amazing email exclusive offers, free events, travel tips, and more.