Oberammergau: Once in 10 years!
Author: Colleen Doyle

Ten years to wait, a lifetime to remember. Yes, this is the one in ten years amazing Passion Play in Oberammergau, a small Bavarian mountain village in Germany.
Each decade on the zero years (2020) this village performs a rendition of the passion, death and resurrection of Christ, with 2000+ actors, musicians, singers, stage crew. Beards and hair are grown for 12 months, rehearsals for months, a semi-permanent sound shell is erected for the 5 month duration event which attracts guests from all over the world.
Those performing must have been born in Oberammergau or lived there for over 20 years. There are a few in the cast regularly, and who have performed 6 times over 60 years, and 3 or more generations involved in the Passion Play. Each decade the story is the same, but there is completely different music, costumes and stage sets – what an amazing undertaking with exquisite costuming, massed choirs, huge orchestra and real animals!
It began in the 1600's when the black plague was ravaging Europe. On its way toward Oberammergau, the village combined in prayer and asked God to preserve them with the promise they would perform this play for the world to see. The village only had 3 people perish, so true to their word, this promise has evolved to the 'once in ten years' Passion Play.
It is the strangest experience to be in Oberammergau accommodation and to recognise staff at the hotel from the drama. On my 2010 trip there, where I hosted an Innovative Travel group, my hotelier was Jesus and Mary served in the dining room!  
This little village is picturesque, with many of the buildings having frescoes on their typical German architecture of tall buildings with high peaked roof lines. It's quiet, not many cars in the village and so to wander, browse the shops with the touristic souvenirs and Passion Play themed goods to buy, is safe and pleasant. There is a camaraderie that just happens naturally with people from every part of the planet there for the one occasion, usually there for a couple of days with time to enjoy the ambience of this fascinating little Bavarian village. This adds to the pleasure of the visit here.
The Passion Play performs during the afternoon, with a dinner break where guests are given a particular restaurant or hotel to go to for dinner, included in the ticket cost, then the play continues for the evening session.
This 'once in a lifetime' unique experience will be relished for many years, with lasting memories of pastel frescoed houses, an age old rendition of Jesus' last days, generations presenting this together and people from all corners of the globe there for one common purpose – the Oberammergau Passion Play.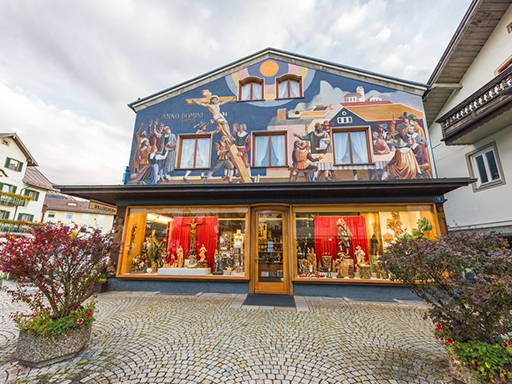 Click to view our online brochures. We also offer printed brochures to order. Enquire here
Read testimonials from past Innovative Travellers whom we have helped to explore the globe.
Click to sign up for our amazing email exclusive offers, free events, travel tips, and more.